Books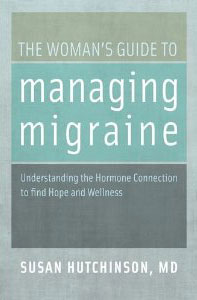 The Woman's Guide to Managing Migraine
by Susan Hutchinson
Purchase options:
Oxford University Press soft cover
click here.
Barnes and Noble (both soft cover or Nook version) click
here
.
Soft cover from Amazon
click here
Kindle Edition from Amazon
click here
.
Audio Book from Audible
click here
The Woman's Guide to Managing Migraine is a concise and practical handbook that gives female headache sufferers all the tools they need to work with their healthcare providers to properly diagnose types of headache and develop the best possible treatment plans. A headache specialist, family practice physician, and fellow migraine sufferer, Dr. Susan Hutchinson introduces the reader to seven women with different lives–ranging from a nineteen-year-old college student, to a twenty-nine-year-old attorney, to a fifty-five-year-old mother of three grown children–different women with the common thread of suffering from disabling monthly migraines. As these women's lives unfold throughout the book, the reader gains insight into their own headache experience. Readers will learn about hormonal therapy, preventive strategies, and treatment options, ranging from the most promising new drugs to the most effective complementary and alternative therapies. Dr. Hutchinson answers common questions, such as how to plan for pregnancy and how to manage family and work life while coping with ongoing migraine attacks. She shows you how to carefully maintain your body and brain to minimize disruptions that can trigger a migraine, how to keep a migraine diary, how to find a headache-focused provider in your area, and how to make the most out of a visit to your doctor. The book includes a "headache quiz" that will determine if you are having true migraines.
Dear Dr. Hutchinson,

I've just finished The Woman's Guide to Managing Migraine and it's been so helpful. I'm a family physician in London, Ontario, Canada with many women in my practice who suffer migraine. Thank you for presenting the information in such a readable way and I especially thank you for providing the specifics of dosing, frequency, etc. of medications. I also really appreciated the case examples and the specifics of how you'd approach them. I will definitely recommend the book to my patients and will also be pulling information from it to help them!

Kind regards,
Natalie Lovesey
Menstrual Migraine
by Susan Hutchinson and B. Lee PeterlinA concise yet authoritative resource on the diagnosis and treatment of menstrual migraine.
Click here to order
Headache Journal Articles
Chronic Daily Headache: Understanding and Treating a Common Malady (PDF 2.2MB)
Co-Authored by Susan Hutchinson, MD
Menstrual Migraine: The Role of Hormonal Management (PDF 3.5MB)
Susan Hutchinson, MD
Prevention and Management of Menstrual Migraine (PDF 104k)
Susan Hutchinson, MD
Women's Issues and Migraine (PDF 1.7MB)
Susan Hutchinson, MD
Sinus Headache or Migraine? Keys to Correct Diagnosis (PDF 5.6MB)
Susan Hutchinson, MD
For handouts on Headache and Mood Disorder, click on the links below: