What is the difference between Aimovig, Ajovy, and Emgality for migraine prevention?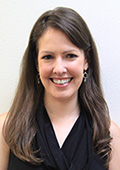 All three drugs are part of a category called CGRP monoclonal antibodies and represent the first migraine specific preventive category to come to the US market.  All show good efficacy and tolerability in clinical trials. All are only for adults 18 and over. None have been studied for safety in pregnancy & breast-feeding. Aimovig targets the CGRP receptor and both Ajovy & Emgality target the CGRP ligand to prevent migraine. The main difference is in dosing and administration. Aimovig is given as either a 70 or 140 mg monthly subcutaneous injection and comes as an auto-injector. Ajovy is dosed as 225 mg monthly or 675 mg quarterly subcutaneous injection and comes as a prefilled syringe with a small needle. Emgality is given as a loading dose of 2 injections of 120 mg each then a monthly 120 mg dose. Like Aimovig, Emgality comes as an auto-injector. All three are designed for self-injection at home. Aimovig and Ajovy can be injected in the thigh, abdomen, or upper arm. Emgality has an additional injection site of the buttocks. All three should be disposed of in a Sharps Container. Lastly, all three can be injected as part of an office visit if you feel you are a candidate.
To make an appointment, please call 949-861-8717.